Harvest Snaps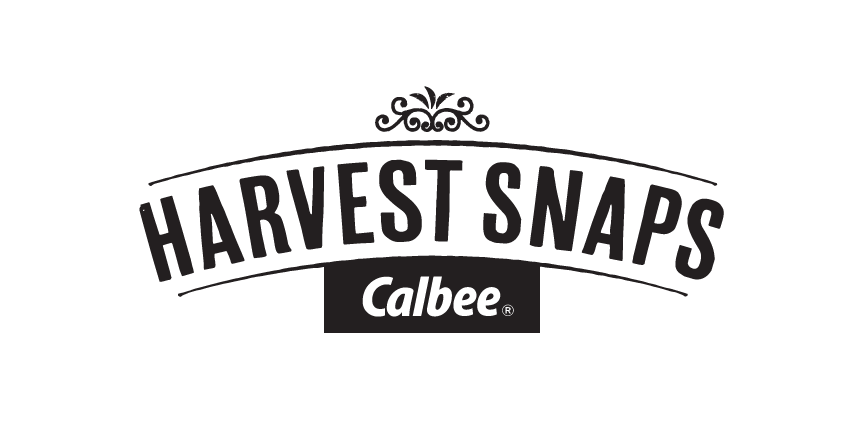 I was VERY lucky to have received 4 bags of these snacks for free from Harvest Snaps.
PRODUCT DESCRIPTION
Good-for-you and great taste can be hard to come by these days, but for us they're like two peas in a pod. Inside every bag of Harvest Snaps we combine taste, quality and simplicity. Sprinkle that with the passion we have for fresh, natural ingredients, and you get one "snaptastic" snack.
When it comes to "what's inside" Harvest Snaps, it all starts with the clean flavors and essential nutrients Mother Nature intended. Our Snapea Crisps are made with all-natural peas– 70%* to be exact – while our Lentil Snaps come packed with 65% authentic lentils and their powerful combination of nutrients.
With each handful (yes we said handful) your body will soak up Vitamin B, calcium, iron, folate, potassium and dietary fiber. Finish that off with a high level of protein and fiber and you're sure to feel satisfied without feeling sluggish. Not to mention, these snappy little snacks are gluten-free.
Sadly, not a ONE of the GROUP photos I took of these came out decently, so we will have to make due with individual photos. I had my PCA/Adoptive mom 'Mama Melissa' help me with the tasting.
This was the first bag we opened, and Mama Melissa promptly took. This was a mixed bag of baked green pea and lentil snaps. You really couldn't taste the salt on these, but the caramel flavor burst through. They weren't overly sweet though. Yummy. These were Mama Melissa's favorite flavor. I wasn't too fond of them.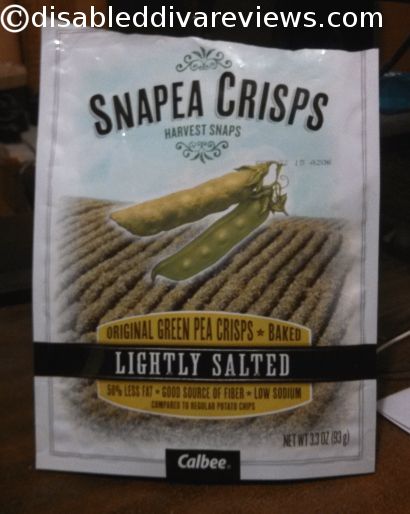 These are strictly baked green pea snaps. The term 'Lightly Salted' is a bit misleading on these. You tasted the salt MORE than the Salted Caramel flavor, but nowhere near as salty as a typical potato chip. I'd say the salt was on level with a plain Pringles chip. I found these still very tasty, however Mama Melissa wasn't sold on this flavor.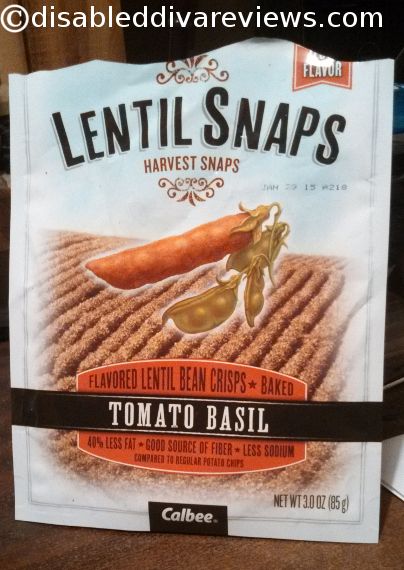 This flavor is made from strictly lentil bean snaps, which are baked. Almost tasted like pizza or spaghetti sauce. Not too heavy on the salt, either. These were more puffy/airy than the Lightly Salted flavor, but still crunchy. Mama Melissa said they was okay, which I agreed with.
Another mixed bag of green pea and lentil bean snaps. You can really taste the toffee flavoring, yet the coffee flavor is there. The coffee flavoring is more of an 'instant coffee powder' flavoring, so think of eating dry instant coffee. However, the toffee flavoring gives it enough sweetness, so it doesn't have a bitter taste. I think these were my favorite flavor of the set. Mama Melissa seemed to like them, but she wasn't completely sold on the 'instant coffee grounds' flavoring.
Unfortunately, the one flavor I was HOPING we would be able to try, the Brown Sugar & Cinnamon flavor was one we did not receive. Boo.
As stated above, The lentil snaps have a more 'puffy' texture than the snapea crisps. A good way to compare the textures would be Jax Cheese Puffs to the crunchy Cheetos.
Holiday Snaps are available in three different flavors
• Salted Caramel
• Coffee Toffee
• Brown Sugar & Cinnamon
Harvest Snaps Snapea Crisps are available in four different flavors
• Lightly Salted
• Caesar
• Black Pepper
• Wasabi Ranch
Harvest Snaps Lentil Snaps are available in two flavors
• Tomato Basil
• Onion Thyme
Harvest Snaps can be found at most major retailers, like Walmart, Target, ShopRite and the Kroger family of stores. Click on
Find 'Em
to find the nearest retailer near you!
But... HOLD ON!! Harvest Snaps wants to give one lucky winner their own pack of snacks for the Holiday Season!! You can enter below!
Harvest Snaps giveaway
FINAL THOUGHTS
I love these snacks. They are light, flavorful and I don't feel guilty if I overindulge, since they are vegetable-based.
STARS:





WOULD RECOMMEND:
Yes.
**As per FTC guidelines, I received this product in exchange for an honest review. Only compensation I received is the product(s) mentioned above. All opinions are my own and your usage/results may vary.**